Details
HIKVision DS-7208HqHI-SH Full High Definition Recorder, easily connect your old analogue cameras, the latest High Definition cameras AND you can also add 2 extra IP Network cameras, making this a very versatile recorder. It also has P2P and DDNS built-in, so you no longer need a static IP address. This version comes with a very large 4TB Hard drive. You need this large Hard Drive because the High Definition footage takes up a lot more space than traditional non-HD recorders.
This is the incredible DS-7208HQHI-F1/N Full High Definition Recorder.
A Great 8 Channel Recorder from the well known HIKVision Manufacturer with a massive 4TB Hard Drive.
This CCTV Recorder is capable of recording at 25 frames per second at 720p HD quality, which is a High-quality standard, giving very sharp images. It also has a built-in HDMI Output, displaying a 1080p High-Definition picture on your big-screen TV for ultra-sharp viewing. Or you can simply plug it into any modern VGA monitor for ease-of-use. This is one of the only DVRs in this price range to have all this and PTZ capability, so you can happily zoom in your PTZ cameras using the recorder controls, or remotely over the internet using your PC, laptop, Mac or Smartphone. (You need to have a PTZ camera to do this). Yes, you can use this recorder to view your cameras on your smartphone or other device anywhere in the world.
This is our most popular 8 channel recorder and it's easy to see why. It can take the older analogue cameras used in just about every CCTV system in the past fifteen years. It can also take the latest Full HD TVI Turbo cameras for incredible super-sharp images. As an extra feature, this recorder can also take two IP camera as well as the eight HD Turbo cameras, that's a total of ten camera!
We use Western Digital Hard Drives that are specially designed for CCTV recorders to ass even more reliability.
View the Specifications here:

HIKVision are the No.1 global vendor of CCTV and video surveillance equipment
This Recorder benefits from an excellent TWO YEAR WARRANTY.
Sample Snapshots from HIKVision Full HD Turbo Recorder:
Click on each image for full size version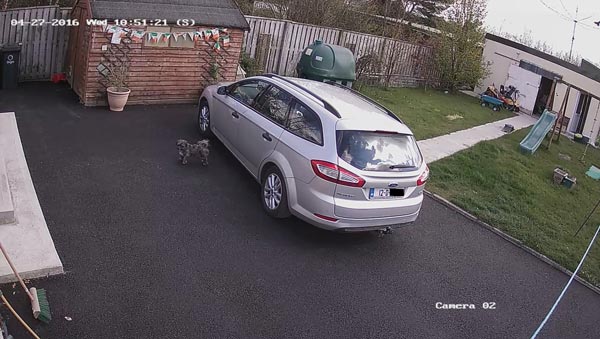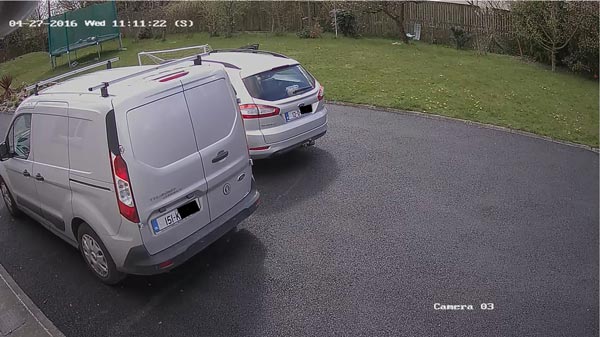 SPECIFICATIONS:
Video/Audio Input
Audio Input:
|
1-ch
Video Compression:
|
H.264
Analog and HD-TVI video input:
|
8-ch,BNC interface (1.0Vp-p, 75 Ω)
Supported camera types:
|
720P25, 720P30, 720P50, 720P60, 1080P25, 1080P30, CVBS
IP Video Input:
|
2-ch 1080P
Video Input Interface:
|
BNC (1.0 Vp-p, 75Ω)
Audio Compression:
|
G.711u
Audio Input Interface:
|
RCA (2.0 Vp-p, 1 kΩ)
Two-way Audio:
|
1-ch (Audio In)
Video/Audio Output
HDMI/VGA Output:
|
1920 × 1080 / 60 Hz,1280 × 1024 / 60 Hz, 1280 × 720 / 60 Hz, 1024 × 768 / 60 Hz.
Recording resolution:
|
Main stream: 1080P (non-real-time) / 720P / WD1/ VGA / 4CIF / CIF;Sub-stream: WD1(non-real-time) / 4CIF(non-real-time) / CIF / QCIF / QVGA
Frame Rate:
|
Main stream: 1/16 fps ~ Real time frame rate Sub-stream: 1/16 fps ~ Real time frame rate
Video Bit Rate:
|
32 Kbps-6 Mbps
Stream Type:
|
Video/Video&Audio
Audio Output:
|
1-ch RCA(Linear, 1kΩ)
Audio Bit Rate:
|
64kbps
Dual Stream:
|
Support
Playback Resolution:
|
1080P / 720P / VGA / WD1 / 4CIF / CIF / QVGA / QCIF
Synchronous Playback:
|
8-ch
Network management
Remote connections:
|
128
Network protocols:
|
TCP/IP, PPPoE, DHCP, DNS, DDNS, NTP, SADP, SMTP, SNMP, NFS, iSCSI, UPnP™, HTTPS
Hard Disk Driver
Interface Type:
|
1 SATA Interface
Capacity:
|
Up to 6 TB capacity for each disk
External Interface
Network Interface:
|
1; 10M / 100M self-adaptive Ethernet interface
USB Interface:
|
2 USB 2.0 Interfaces
Serial Interface:
|
1; standard RS-485 serial interface, half-duplex
General
Power Supply:
|
12V DC
Consumption:
|
≤ 20W
Working Temperature:
|
-10 ºC ~+55 ºC (14 ºF ~ 131 ºF)
Working Humidity:
|
10% ~ 90%
Chassis:
|
1U chassis
Dimensions:
|
315 × 242 × 45mm (12.4 × 9.5 × 1.8 inch)
Weight:
|
≤ 1.5Kg (3.3lb)