Details
The DS-7208HQHI-F1/N/A is the new Multi-format recorder from HIKVision. You can use older exisitng analogue cameras, (such as 500TVL, 600TVL, 700TVL and 960H ,1000TVL Cameras). You can use CVBS, TVI, AHD, HD-CVI and IP cameras with this recorder, allowing for the best compatibility ever. You no longer have to worry about different analogue HD formats, this recorder does all of the important ones.
Supplied with a factory-fitted 2TB Seagate Surveillance Hard Drive for up to a months recording, (H.264+ codec must be enabled, we recommend enabling motion detection and setting the record rate to 10-12 frames per second). The 4TB option should give two month or more recording with these settings).
We are official HIKVision VASP Partners, so you can be assured of the best quality and prices at all times.
3 year warranty. Free Delivery.
This is the recorder that the professional installers use.

H.264 ,H.264+& Dual-stream video compression Support HD-TVI, AHD ,HD-CVI and analog cameras with adaptive access Support 1080P lite mode enabled to realise the real-time
1080P lite and 720P lite resolution HDMI and VGA output at up to 1920×1080P resolution, Long transmission distance over coax cable Up to 4/8-ch synchronous playback at 1080p resolution
playback at up to 256X speed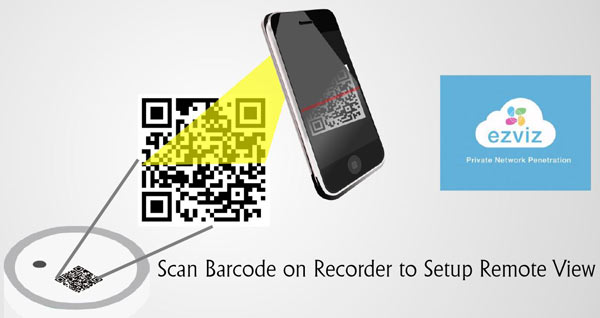 HIKVision Turbo 3.0. Longer Distances than normal TVI:
Up to 1200m @ 720P / 800m @ 1080P over RG6 coaxial cable.
Up to 500m @ 720P / 400m @ 1080P over UTP cable with baluns.
DS-7208HQHI-F1/N/A Specifications:
Video/Audio Input
Audio Input:
|
1-ch
Video Compression:
|
H.264,H.264+
Analog and HD-TVI video input:
|
8-ch,BNC interface (1.0Vp-p, 75 Ω)connection
Supported camera types:
|
Support HDTVI input: 1080p/25Hz, 1080p/30Hz, 720p/25Hz, 720p/30Hz, 720P/50Hz, 720p/60Hz Support AHD input: 1080p/25Hz, 1080p/30Hz, 720p/25Hz, 720p/30Hz support HDCVI input: 1080p/25Hz, 1080p/30Hz, 720p/25Hz, 720p/30Hz support CVBS input
IP Video Input:
|
2-ch Up to 2MP resolution
Video Input Interface:
|
BNC (1.0 Vp-p, 75Ω)
Audio Compression:
|
G.711u
Audio Input Interface:
|
RCA (2.0 Vp-p, 1 kΩ)
Two-way Audio:
|
1-ch, RCA (2.0 Vp-p, 1 KΩ) (using audio input)
Video/Audio Output
CVBS Output:
|
1-ch,BNC(1.0Vp-p,75Ω),resolution:PAL:704x576,NTSC:704x480
HDMI/VGA Output:
|
1920 × 1080 / 60 Hz,1280 × 1024 / 60 Hz, 1280 × 720 / 60 Hz, 1024 × 768 / 60 Hz
Recording resolution:
|
1080P lite mode: Main stream:1080P(lite)(real-time)/720P(lite)(real-time)/WD1/VGA/4CIF/CIF Sub-stream:WD1(non-real-time)/4CIF(non-real-time)/CIF/QCIF/QVGA non 1080P lite mode:Main stream: 1080p(non-real-time)/720P(non-real-time)/720P/WD1/VGA/4CIF/CIF Sub-stream: WD1(non-real-time)/4CIF(non-real-time)/CIF/QCIF/QVGA
Frame Rate:
|
Main stream: When 1080p Lite mode not enabled: For 1080p stream access: 1080p/720p@12fps;VGA/WD1/4CIF/CIF@25fps (P)/30fps (N) For 720p stream access: 720p/VGA/WD1/4CIF/CIF@25fps (P)/30fps (N) When 1080p Lite mode enabled: 1080p lite/720p lite/VGA/WD1/4CIF/CIF@25fps (P)/30fps (N) Sub-stream: WD1/4CIF/2CIF@12fps; CIF/QVGA/QCIF@25fps (P)/30fps (N)
Video Bit Rate:
|
32 Kbps-6 Mbps
Stream Type:
|
Video/Video&Audio
Audio Output:
|
1-ch RCA(Linear, 1kΩ)
Audio Bit Rate:
|
64kbps
Dual Stream:
|
Support
Playback Resolution:
|
1080P/1080P(lite)/ 720P / VGA / WD1 / 4CIF / CIF / QVGA / QCIF
Synchronous Playback:
|
8-ch
Network management
Remote connections:
|
128
Network protocols:
|
TCP/IP, PPPoE, DHCP,Hik Cloud P2P, DNS, DDNS, NTP, SADP, SMTP, SNMP, NFS, iSCSI, UPnP™, HTTPS,ONVIF
Hard Disk Driver
Interface Type:
|
1 SATA Interface
Capacity:
|
Up to 6 TB capacity for each disk
External Interface
Network Interface:
|
1; 10M / 100M self-adaptive Ethernet interface
USB Interface:
|
2 USB 2.0 Interfaces
Serial Interface:
|
1; standard RS-485 serial interface, half-duplex
General
Power Supply:
|
12V DC
Consumption:
|
≤ 20W(without hard disks)
Working Temperature:
|
-10 ºC ~+55 ºC (14 ºF ~ 131 ºF)
Working Humidity:
|
10% ~ 90%
Chassis:
|
Standalone 1U chassis
Dimensions:
|
315 × 242 × 45 mm (12.4 × 9.5 × 1.8 inch)
Weight:
|
≤2 kg(4.4lb)