IP HD Cameras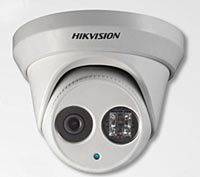 High Definition IP network.Cameras are the next-generation phase of CCTV camera development. Very high Resolution images are produced, The most popular are 1.3MP, , 2MP, 4MP, 1080p and the fantastic 4K. No need for separate coax and power leads, IP cameras are connected using standard CAT5 network cable and most are powered through the recorders or separate network POE routers. IP cameras are accessed across your standard etherent network and they have a built-in web server interface to set parameters and view footage. A network video recorder,(NVR), is used to record the CCTV footage. Many IP cameras have two way audio capabilities.
Rugged IK104 MP Twice Full HD 2MP Motorised zoom 2.8-12mm Vandal ...

Rugged IK10 Full HD 2MP Motorised zoom 2.8-12mm Vandal Resistant ...

Rugged IK10 2 X Full HD 4MP IP Camera with 20 metre IR Nightvisio...

Rugged IK10 Full HD 1080p IP Camera with 20 metre IR Nightvision.

We sell a lot of this bullet camera because of it's great features, ve...

Ceiling mount PTZ camera *Comes with free Wall or Pendant Bracket Hi...

2 MP WDR Vari-focal Network Turret Camera Only buy HIKVisio...

DS-2CD2685FWD-IZS 4K 8MP Vari-Focal Network Bullet Camera Hikvision&r...

DS-2CD2725FWD-IZS 2MP Motorised IP Dome Camera Hikvision's DS-2...

DS-2CD2755FWD-IZS 5MP IR Vari-Focal Network Dome Camera Hikvision&rsq...

DS-2CD2785FWD-IZS 4K 8MP IR Vari-Focal Dome Network Camera Hikvision&...

DS-2CD2H55FWD-IZS 5MP IR Vari-focal Turret Network Camera -&nb...