Details
Introducing the very latest in High Definition CCTV Equipment at a very special introductory pricing from the World's leading manufacturer of CCTV equipment. We are delighted to announce that we now stock the HIKVision range of Turbo Analogue HD recorders and cameras.
This new range features amazing HD quality at 2 Mega-Pixel full 1080p, the same quality as a Sky HD box. What it means to you is that you now get amazing HD quality in an easy to install package with everything included. The 4 channel Kit comes with a 1TB Hard Drive and the 8 and 16 channel recorders now come with 2TB and 4TB as standard.
Now comes witht the new DS-2CE56D8T-IT3 Ultra-Low light 0.005Lux version of this camera, even better than ever at night !!
This is our lowest cost HIKVision High Definition Kit ever and it uses the very high quality HIKVision premium Turbo brand. It costs less, but you do not lose out in quality. Even more incredible is that the included HD cameras have the best IR NightVision in their class.
The dome cameras can see in total darkness for upto 40 metres and the bullet cameras can see an amazing 80 metres in total darkness. Both of these cameras are far, far better at night vision than comparable cameras from other brands.
What you get:
• 1 X Four Channel Turbo HD recorder with a 1TB Seagate Surveillance Hard Drive
• 4 X HD Dome cameras with a fantastic 35-40 Metre NightVision, 80 metre IR Bullet cameras available as an option
• 4 X twenty metre ready-made cables, just plugs into the recorder and cameras, (longer cables available)
• 1 X four way 5 amp Power supply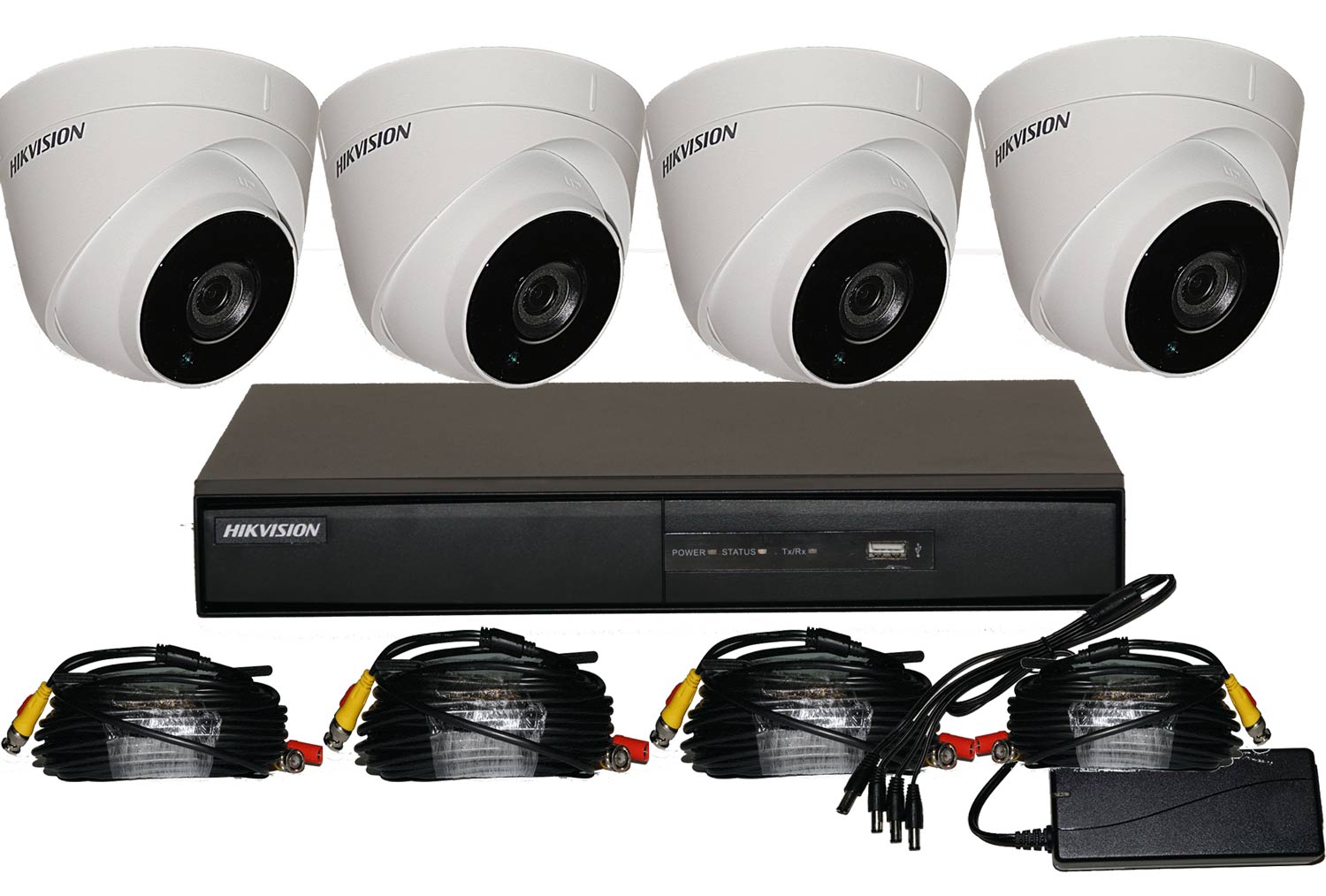 The HIKVision Turbo Recorders can be viewed remotely anywhere in the world once you follow the easy setup procedure.The

in this kit is used by professional installers all over the world. The app for smartphones is free and there is no yearly charge to access your system, unlike other companies. This kit is ideal for protecting homes, businesses and farms and is especially valuable where you want stunning High Definition quality and excellent coverage at night. Professional installers are raving about the HIKVision Turbo range, they love it, you will too. It's premium quality High Definition CCTV at a reasonable price. You won't be disappointed.
It's all about the Turbo Baby!
If you are upgrading from an older CCTV system then you can use your existing cabling and 12 volt power supplies, just simply swap out the old cameras and recorder for the new HIKVision Turbo equipment and you easily have a new High Definition CCTV System. Your existing coax cable runs must be less than 200 metres from camera to recorder for optimum results. You can mix old non-HD and new Turbo HD cameras on the same system, very handy if you want to upgrade an older system a camera or two at a time.
HIKVision are the World's No. 1 CCTV Manufacturer for a reason: there equipment is fantastic. We have sold HIKVision security devices to all kinds of homes and businesses across the country, including multi-national and semi-state bodies. We are a member of the HIKVision VASP Partner program and we have fast access to the HIKVision technical and engineering teams. This is an invite-only Value added program. We can sell HIKVision products for less due to the huge volumes we sell.
This kit benefits from an excellent TWO YEAR WARRANTY.
Sample Snapshots from HIKVision Full HD Turbo Recorder:
Click on each image for full size version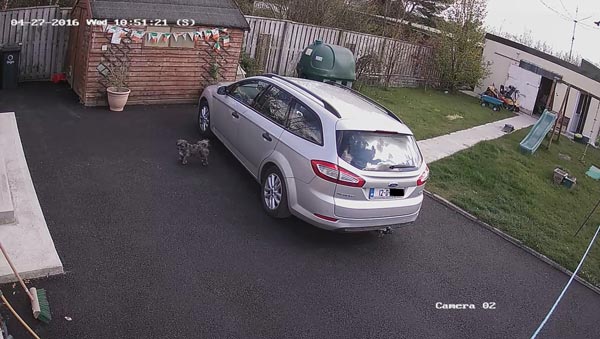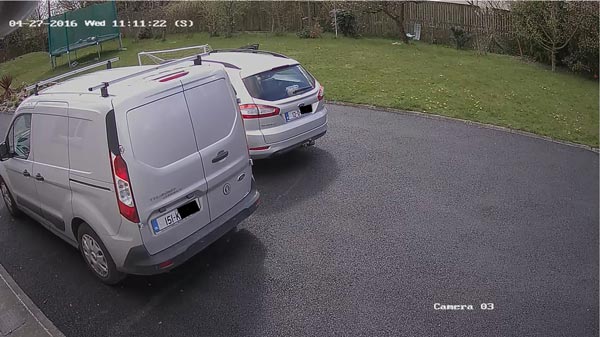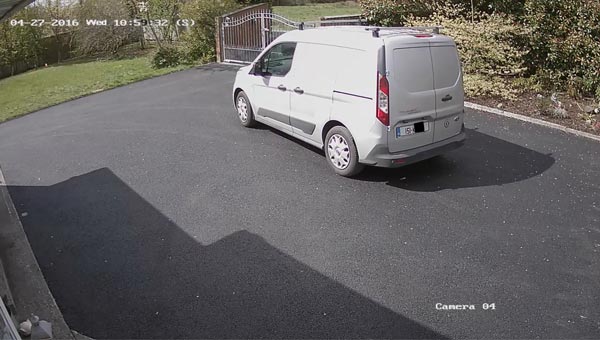 THIS IS WHAT IS LOOKS LIKE ON THE FREE MOBILE APP: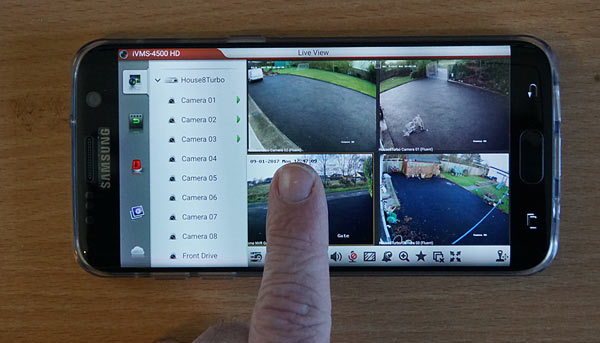 Tap to View Single Camera Screen: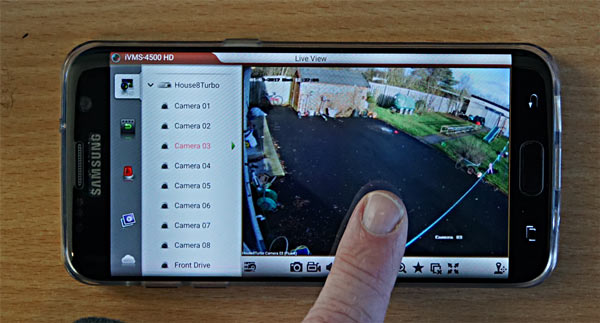 Maximise for Full Screen: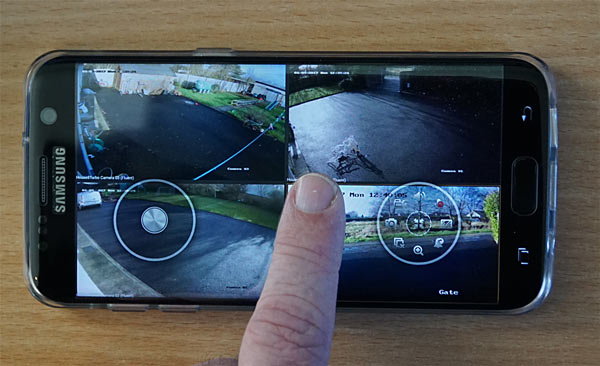 Tap Again For Single Camera: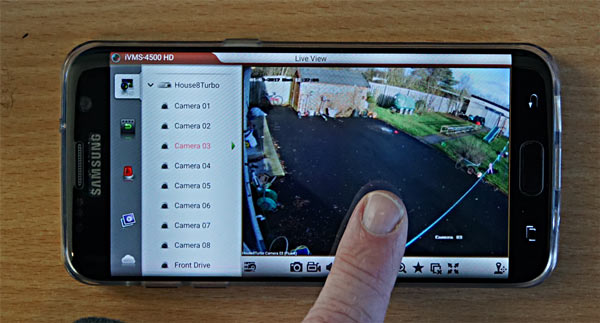 Single Camera Full Screen: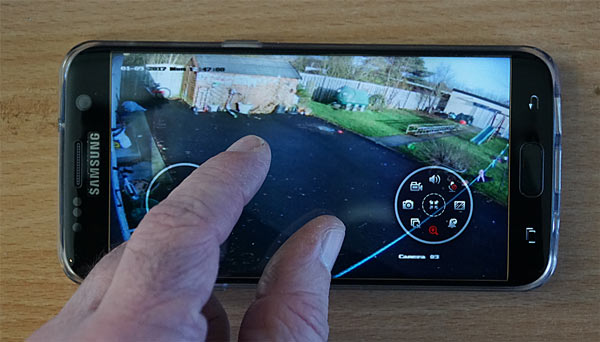 Zoom In With Fingers: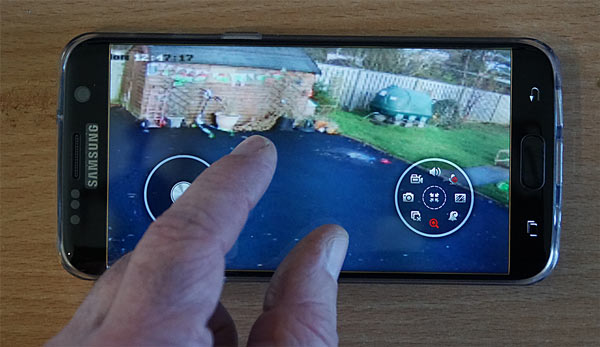 And Again: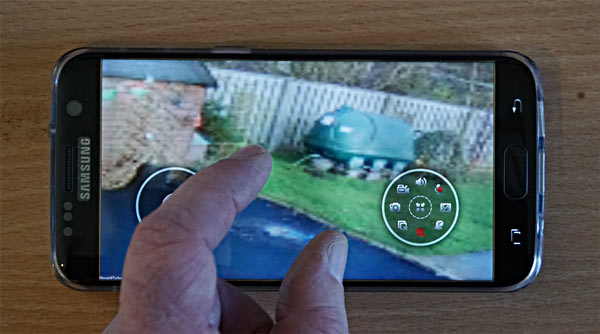 4 Channel 1TB DS-7204HQHI-K1 1TB Recorder details:
Audio Input:
|
1-ch
Video Compression:
|
H.265+/H.265/H.264+/H.264
Analog and HD-TVI video input:
|
16-ch,BNC interface (1.0Vp-p, 75 Ω)connection
Supported camera types:
|
Support HDTVI input: 3MP,1080P/25Hz, 1080P/30Hz,720P/25Hz, 720P/30Hz, 720P/50Hz, 720P/60Hz,
Support AHD input: 1080P/25Hz, 1080P/30Hz, 720P/25Hz, 720P/30Hz
Support CVI input: 1080P/25Hz, 1080P/30Hz, 720P/25Hz, 720P/30Hz
Support CVBS input
Video Input Interface:
|
BNC (1.0 Vp-p, 75Ω)
Audio Compression:
|
G.711u
Audio Input Interface:
|
RCA (2.0 Vp-p, 1 kΩ)
Two-way Audio:
|
1-ch, RCA (2.0 Vp-p, 1 KΩ), (using the 1st channel of audio input)
Video/Audio Output
CVBS Output:
|
1-ch,BNC(1.0Vp-p,75Ω),resolution:PAL:704x576,NTSC:704x480
HDMI/VGA Output:
|
VGA: 1-ch, 1920 × 1080/60Hz, 1280 × 1024/60Hz, 1280 × 720/60Hz, 1024 × 768/60Hz
HDMI: 1-ch, 4K (3840 × 2160)/30Hz, 2K (2560 × 1440)/60Hz, 1920 × 1080/60Hz, 1280 × 1024/60Hz, 1280 × 720/60Hz, 1024 × 768/60Hz
Recording resolution:
|
When 1080p Lite mode not enabled: 3 MP/1080p/720p/VGA/WD1/4CIF/CIF;
When 1080p Lite mode enabled: 3 MP/1080p lite/720p lite/VGA/WD1/4CIF/CIF
Frame Rate:
|
Main stream:
When 1080p Lite mode not enabled:
For 3 MP stream access: 3 MP/1080p/720p/VGA/WD1/4CIF/CIF@15fps
For 1080p stream access: 1080p/720p@15fps; VGA/WD1/4CIF/CIF@25fps (P)/30fps (N)
For 720p stream access: 720p/VGA/WD1/4CIF/CIF@25fps (P)/30fps (N)
When 1080p Lite mode enabled:
3 MP@15fps
1080p lite/720p lite/VGA/WD1/4CIF/CIF@25fps (P)/30fps (N)
Sub-stream:
WD1/4CIF@12fps; CIF@25fps (P)/30fps (N)
Video Bit Rate:
|
32 Kbps-6 Mbps
Stream Type:
|
Video/Video&Audio
Two-way Audio:
|
1-ch, RCA (2.0 Vp-p, 1 kΩ) (using the audio input)
Audio Output:
|
1-ch RCA(Linear, 1kΩ)
Audio Bit Rate:
|
64kbps
Dual Stream:
|
Support
Playback Resolution:
|
3 MP/1080p/720p/VGA/WD1/4CIF/CIF
Synchronous Playback:
|
16-ch
Network management
Remote connections:
|
128
Network protocols:
|
TCP/IP, PPPoE, DHCP, Hik-Connect, DNS, DDNS, NTP, SADP, NFS, iSCSI, UPnP™, HTTPS, ONVIF
Hard Disk Driver
Interface Type:
|
1 SATA Interface
Capacity:
|
Up to 6 TB capacity for each disk
External Interface
Network Interface:
|
1; 10M / 100M / 1000M self-adaptive Ethernet interface
USB Interface:
|
1 USB 2.0 Interface & 1 USB 3.0 Interface
Serial Interface:
|
1; standard RS-485 serial interface, half-duplex
General
Power Supply:
|
12 VDC
Consumption:
|
≤ 25W(without hard disks)
Working Temperature:
|
-10 ºC to +55 ºC (14 ºF to 131 ºF)
Working Humidity:
|
10% to 90%
Dimensions:
|
315 × 242 × 45 mm (12.4 × 9.5 × 1.8 inch)
Weight:
|
≤ 2 kg (4.4 lb)

Click here for the Recorder Specifications
Rear View of Recorder:

View the DS-2CE56D8T-IT3 Camera specs here:

DS-2CE56D8T-IT3 Camera Specifications:
Image Sensor:
|
2MP CMOS Image Sensor
Signal System:
|
PAL/NTSC
Effective Pixels:
|
1920(H)*1080(V)
Shutter Time:
|
1/25(1/30) s to 1/50,000 s
Lens Mount:
|
M12
Adjustment Range:
|
Pan: 0° - 360°; Tilt: 0° - 75°; Rotate: 0° - 360°
Day& Night:
|
IR cut filter with auto switch
Wide Dynamic Range:
|
120dB
Video Frame Rate:
|
1080p@25fps/1080p@30fps
HD Video Output:
|
1 Analog HD output
Synchronization:
|
Internal Synchronization
Menu
D/N Mode:
|
Auto / Color / B/W
Auto White Balance:
|
Auto/MWB
BLC:
|
Support
AGC:
|
Support
Language:
|
English/Chinese
General
Operating Conditions:
|
-40 °C - 60 °C (-40 °F - 140 °F)
Humidity 90% or less (non-condensing)
Power Supply:
|
12 VDC±25%
Weather Proof:
|
IP67
IR Range:
|
Up to 40m
Communication :
|
Up the coax
Protocol: HIKVISION-C(Coaxitron)
Dimension:
|
φ110mm×93.2mm (φ4.33"×3.67")
Weight:
|
Approx. 350g (0.77lb)